The Washington Bluesox (3-3) defeated the Oregon Lumber Jacks (3-3) 5-4 behind a walk-off RBI sac fly by Tillman Pugh.
The Lumber Jacks jumped out to an early 3-0 lead, but the Bluesox quickly answered with four runs on five hits in the second inning. Josh Riley, Brandon Pearl and Anthony Bazant all ripped one RBI each.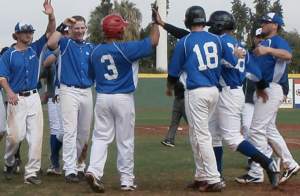 The Lumber Jacks responded as Enrique Ocampo scored in the fifth inning to knot it up at 4-4.
In the second game, the British Columbia Bombers (3-3) melted the Palm Springs Chill (2-4) in a 4-2 win.
Matt Thompson crushed a two-run homer to give the Bombers a 2-1 lead in the fifth inning.
The Chill replied, tying the game at 2-2 with a Yuki Yasuda RBI, but it wasn't meant to be.
Adam Jones knocked a game-winning two-run double in the sixth inning.
The Canada A's (0-6) blew a five-run lead for their second consecutive game as Aritz Garcia's RBI knock sent home Daniel Yancelson for a 7-6 Palm Springs Power (4-2) win.
Trailing 5-0 in the bottom of the fifth, the Power cut the deficit in half. The momentum continued as they added two more runs in the sixth and seventh innings.
Koby Clemens blasted a line-drive bullet home run that took all of about two seconds to clear the left field fence.
In the final game of the quadruple-header, the Coachella Valley Snowbirds (6-0) broke up a scoreless game with a three-run fourth inning and held on for an 8-2 victory over the Palm Desert Coyotes (3-3).
Eric Bainer continued to mash. His three RBI gives him 11 total in the first six games of the season.
Robert Benedict was the catalyst for the offense reaching base three out of four plate appearances.