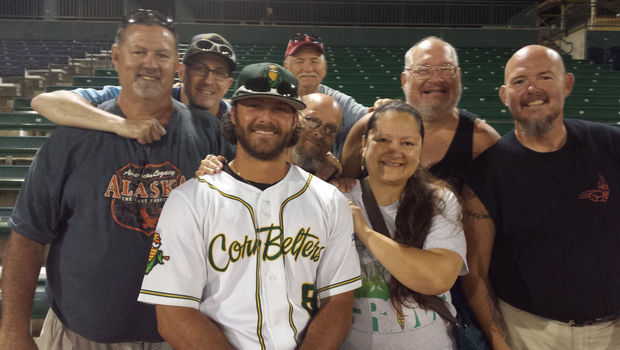 NORMAL — The conversation moves quickly down the right-field line 10 minutes after the Saturday evening baseball game is completed.
Yet other than the occasional sound of hearty laughter, there is silence.
The center of attention is the man in uniform standing on the playing surface. The others huddle around him in the first few rows of the Corn Crib's section 101.
The man is Tommy Barksdale, former CornBelters' player-turned-coach and ambassador. The group of seven has adopted No. 8 as their own.
The hard-of-hearing Barksdale has embraced and become a unifying force in Bloomington-Normal's deaf community.
"It's just a bunch of friends," Barksdale said. "Two of them work at the (Lincoln) community college we stayed at. I saw them signing. They came over to talk to me and introduced me to a bunch of their friends from around town."
Barksdale considers himself "hard of hearing" because he is able to hear when wearing his Cochlear implant. He communicates with his deaf friends through sign language.
"It's nice to know there is a deaf community that supports me and watches my games and afterwards has a conversation with me," said Barksdale. "It's nice to be part of both worlds. I love it. They love it.
"They do mock me sometimes. We all have our jokes. Sometimes I mock them back. It's a family. That's why we can do that."
Barksdale landed in Normal after Belters' manager Brooks Carey received a call from an old friend, former Toronto Blue Jays manager Tim Johnson.
"TJ called me from the California Winter League and said 'Will you sign this kid I have out here?' " recalled Carey, whose team continues its pursuit of the Frontier League's West Division championship Tuesday against Evansville in a 6:35 p.m. game at the Corn Crib.
"About a week later I was talking to TJ and he said 'I forgot to tell you he played for (deaf ex-major leaguer) Curtis Pride at Gallaudet (College) and he's deaf.' I said OK, this is even better."
Barksdale made Normal's season-opening roster but saw little playing time. Hitless in seven at-bats, Barksdale was nearly released several times when other personnel needs arose, according to Carey.
On one occasion he planned to release Barksdale, he had several Belters' veterans accompany Barksdale into his office to provide emotional support.
"Three of them got tears in their eyes. I said 'I don't have any choice,' " Carey said. "I walk out the door and Tommy is sitting in center field in the dark, and Pat (McKenna) is down there with his arm around him.
"They told me Tommy just wants to enjoy the field before he has to go home. I said, 'Never mind, get him back up here.' "
When Barksdale actually was cut from the active roster on July 13, Carey and team president Steve Malliet found a way to keep Barksdale in uniform.
"I told Steve I would make him a coach if we can find a little extra money around," said Carey. "Steve was all for it. The reason Tommy is here is Malliet."
Although Barksdale still considers himself a player, he jumped at the opportunity to serve as bench coach and occasionally coach first base.
"I can't leave the team. These guys are like my family," he said. "I want to support them being a bench coach and learn the game as much as I can. But I'm not going to give up. I'm going to come back next year, play somewhere and give it all I got."
Carey does have to remind Barksdale about the changes his new role has brought.
"The kid is an inspiration to everybody here. He can be a little pain in the neck though," said the third-year Normal manager with a big smile. "He still wants to take BP (batting practice) and do everything the rest of the players are doing. But he has a job now down in the batting cage. He's got to throw BP.
"(Assistant coach Dave) Garcia is out there throwing BP, and here comes Tommy into the batter's box. Are you a coach or are you a player?"
Carey has seen Barksdale treated no differently than anyone on the team.
"He's been a great asset to the organization," Carey said. "I don't think it's a disability. I think it's a positive in his life. He's turned it into a positive."